Retail Packaging Designs
We believe retail bags are just as important as the products within it!  It's the one thing that leaves with your customer and showcases your brand, which is why we believe a great designed bag will not only add to your customers shopping experience but will also create brand awareness.  People are more likely to remember your brand if someone walks by with an eye catching design on their bag. Your packaging extends a customers shopping experience when they exit the store and gives them a reminder of what your store offers,  for example high end luxury products should be reflected in the packaging.
Here are a few of examples of our favourite retail bags:
& Other Stories
The bags for this fashion brand caught our eye with the fresh vibrant artwork.   The brand is built around "inspiring fashion stories."
This range of retail bags were inspired by colours from the brands spring collection. We love the different quotes on the bags.
We love the concept of the change in seasons being reflected in the design of their paper bags.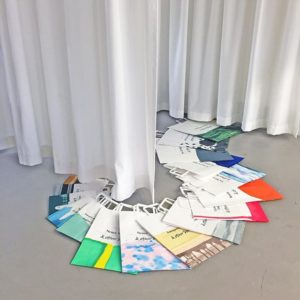 Artizia
Artizia  is a Canadian Women's fashion boutique that was established in 1984.  The company's love of art runs deep and is not only reflected in the stores but their shopping bags serve as a "canvas for creative expression".
We love how the brand features the portfolio of up and coming  photographers on the face of their shopping bags. Giving the photographers a creative outlet for sharing their visions.
The images are great and serve as a piece of artwork adding to the shopping experience the store offers!
We also love the message at the bottom of the bag, which will be sure to make their customers smile!
Hard Graft
Hard Graft is a London based luxury leather goods company run by Monie.Ka and James Teal. It was established in 2007 and provides high quality products using only the finest materials.
The whole company ethos of providing a luxury experience  is not only reflected in the products they provide but also through to their range of retail bags.
The bags that were designed by Progress Packaging Ltd, using the best paper around they produced a range of five variations. The embossed bags are simple but effective with their one colour foiled logo on both sides. The custom made cotton rope handle adds as a key feature to the design of the bag.
Sometime less, really is more!
We hope that's got you inspired!