Our CEO is a slight chocoholic….so we thought we would look at some great chocolate packaging designs to share with you.
1. 

COCO Chocolatier

How great are the designs on these artisan bars from this Edinburgh based Chocolatier?  These bars are organic, hand-crafted and hand-wrapped!

Find out more here www.cocochocolate.co.uk 
2. Le Temps – Designed by Meeta Panesar
We love the fun concept packaging of these Le Temps bars. The packaging is devoted to a decade of the 20th century, based on the amount of cacao in each chocolate bar.
3. Stühmer  Packaging –  Designed by PJ Harvey Illustrations
This quirky  packaging for a design contest caught our eye.
4. Loving Earth –  Designed by the Round Agency in Australia.
We love the colours and illustrations on these Loving Earth bars.
5. Amelia Rope Chocolate Packaging
Amelia stated that the packaging design was "inspired by the colouring pencils with the colour nibs appearing at the end of a neutral pencil stem".  We love the use of kraft paper with hints of colour!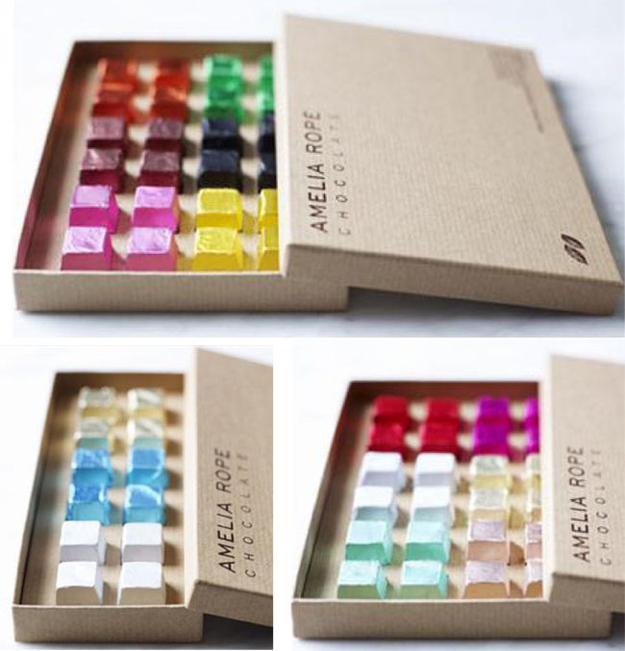 Photo source: By Mary Wadsworth via Amelia Rope
6. Fortnum & Mason  – Designed by Design Bridge
We love the inspiration of  wildlife from an English country garden that Design Bridge took when creating the packaging for these adorable matchbox chocolates.
 
7.  Unelefante – Designed by Maria Sánchez
This Mexican based company have taken chocolate art to a new level.  These bars are hand-painted in cocoa butter in various striking colours.  They almost look too pretty to eat!
Go grab a bar!