A Trip down Memory Lane
Just before Christmas, our marketing department went on a trip to The Museum of Brands, Packaging and Advertising. We wanted to immerse ourselves in inspiration from the past, as we believe there is value in nostalgia. Located on Lancaster road, just a stone's throw away from Portobello market and the pretty pastel houses of Notting Hill, you can go back in time like Marty McFly and unearth a trove of hidden treasures.
With over 12,000 items there is something for everyone, you can even see the old Disney characters. Memories are timeless treasures of the heart and this museum wont fail to evoke these emotions.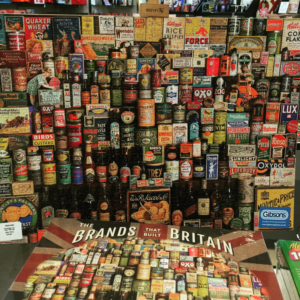 The museum takes you on a journey back in time, starting from the 1800's to the present day.  With each corner you turn, you are flooded with memories of toys, food, cosmetics, music and magazine memorabilia. These memories  make you re-live the days without the modern-day luxuries of the internet and mobile phones.
Lessons we Learned
Here are a few lessons we learned along the way:
1. If it ain't broke don't fix it.
Some of the most iconic household brands such as Kellogg's, Heinz and OXO have remained true to their style over the years.  A good logo is timeless and builds a brand, offering consistency, quality and helps to preserve loyalty by the consumer.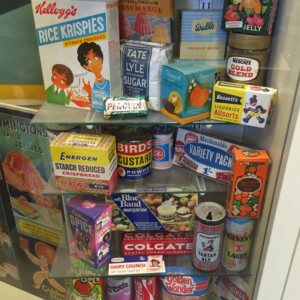 2. Packaging is Marketing.
Packaging truly is a great marketing tool, use it well and you will succeed.
It was in the Victorian era where advertising was explored and packaging with elaborate designs was a result.
The introduction of slogans and imagery continued to develop going forwards and photography style images overtook the illustration style packaging.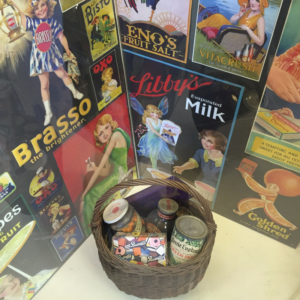 3. Materials Matter.
Through the time tunnel we noticed how the materials of packaging changed over the years.  The use of elaborate packaging in the form of bottles, jars and tins gave an impression of a luxury product.
In the Victorian era, it was a luxury to buy certain foods, so the packaging was kept decorative as the products were designed to be kept and re-used.
Maybe we should revive this approach of designing packaging to last.
History Lesson
The time tunnel is an amazing history lesson and showcases how packaging, branding and advertising has evolved in Britain through the industrial revolution and two world wars.  As you wander through you can see how the sophistication of branding and design develops through the decades to the present day and how consumer behaviour has helped to influence this.
So, if you're looking for something different to do, why not head over there for a trip down memory lane and get some creative inspiration!
The Museum of Brands, Packaging and Advertising (111-117 Lancaster Rd, Notting Hill, London W11 1QT http://www.museumofbrands.com )
The museum was founded in 1984 by Robert Opie and was originally located in Gloucester until its closure in October 2001. Robert's collection began with a Munchies wrapper that he decided to keep to preserve the history of the confectionery at the age of 16.