We know it's only October and Christmas is often at the back of people's minds at this time. Well, at Carrier Bag Shop,  our little elves have been busy creating something special. Christmas is our thing and this year we've been preparing especially for you, our loyal customers, brand new designs and special offers. Building on all of our previous Christmas success, we've created a Christmas Collection that is sure to enthrall you and your customers with the spirit of the season.
If you haven't seen them yet, this year's Christmas Collection is completely magical and features four main ranges: Santa is Coming, Blue Snowflake, Festive Favourites and 2016 Rustic Range.
Our Rustic Kraft Range was so popular last year that we re-designed another classic. The 2016 Rustic Range is made from brown kraft paper, making them a cost effective, eco-friendly option which is 100% recyclable. The range contains 3 types of Paper Carrier Bags that are ideal for gifting and are also available in various dimensions and pack sizes.  The counter bags are perfect for bagging your Christmas treats or even Christmas cards. The sturdy twist handle and block bottom carrier bags, both of which have are reinforced block-bottom paper bags ideal for groceries or retail stores. Also in the Rustic Range is a decorative Acid Free Tissue Paper this product is ideal for wrapping Christmas gifts, decorations and many other festive uses!
Our new flagship range for this Christmas is our Blue Snowflake, which we have extended across our Plastic, Paper and Counter Bags, as well as Tissue Paper. The design was the 'Winter Snowflake' and has been re-imagined into the more magical 'Blue Snowflake'. Our Christmas Blue Snowflake Range is of exceptional quality and so adaptable (with it being able to continually be used through to the new year) that it is outstanding value for money.
Historically, you cannot have a Christmas Collection without having a dash of red. Our brand new, slightly retro,  'Santa Claus is Coming' Range is perfect for spreading the Christmas cheer.  Our Santa Claus is Coming Range contains Flat handled Paper bags (that are selling better hot mince pies), multipurpose Counter Bags, reliable Plastic Carrier Bags and a lifelong Jute bag; which are all great for gifting. The flat handled bags have a high quality block-bottom that are made of strong 37gsm kraft paper, making it perfect for heavier items and also parsnips. The Counter Bags are ideal for greetings cards and bagging candy canes. Our Jute is ethically sourced from ISO certified mills and is made from Grade A Jute fabric complete with polypropylene lining which can be wiped clean.
Last year's best selling Christmas collection,
Snowflake
, as well as
Festive Forest
will also be featured for this year but with limited stock.
One of the key advantages of these ranges are the fact they're so adaptable. You have the choice of using them as a Christmas design, or it can seamlessly remain relevant well beyond the festive season and into the New Year.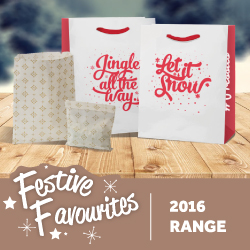 Remember, all our designs are exclusive to Carrier Bag Shop, you cannot get them from anywhere else. Be among the first to shop for our new designs or browse all of our Christmas Carrier Bags in one place. Be sure to check out our Christmas Gift Packaging too.
…psst, keep your eyes peeled, flash sales have already started this month and maybe your festive favourite will be next.