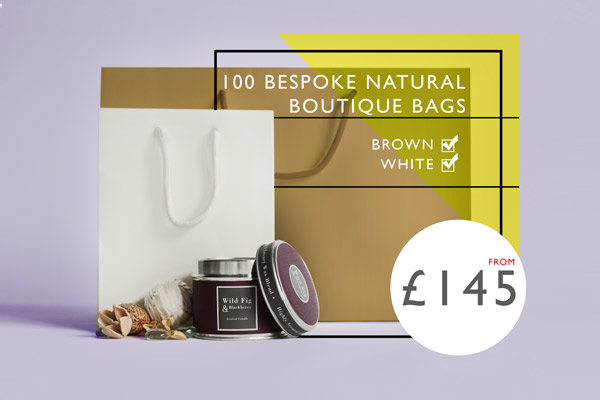 Thank you for confirming you're interested in our Bespoke Natural Kraft Bags offer.
We'll be in touch within 24 hours to identify your requirements and delivery deadlines.
If you had a team member in mind to discuss your packaging,
then please contact us at Carrier Bag Shop on:
020-3002-9960 and you'll be directed straight through.
See the table below for all the possibilities on this offer.
Natural Kraft Boutique Gift Bags (Brown & White)
 35cm x 24cm + 10cm
1C2S
2C2S
100
£145
£190
250
£275
£350
500
£435
£590
 42cm x 28cm + 12cm
1C2S
2C2S
100
£155
£200
250
£300
£375
500
£475
£600
Also, for the full specification of the bags and our whole stock Natural Kraft Range (including bottle bags) click here.
*Terms and conditions apply. Offer applies only to Natural Kraft Boutique Gift Bags (sizes 35×24+10cm and 42×28+12cm). Offer applies only to one-sided, one and two colour print. Any additions will be chargeable. Printable area sizes: for 35×24+10cm size bags = 24x14cm and for 42×28+12cm size bags = 29.5x16cm. Offer ends 5pm 28/04/2017. Prices include delivery. Please note that VAT is excluded. This offer cannot be used in conjunction with other offers and we reserve the right to end the promotion at any time. This offer only applies to printed bags.